who we are
Our Youth Ministry provides a safe and welcoming environment for students grades 6-12 to come to learn about Jesus, spend time in fellowship, and have some fun.
The mission of our Youth Ministry is. . .
To prepare students to live a life for Christ inside and outside the church by teaching, discipling, and encouraging students in their faith.

Sunday School
Sunday School programming runs during the school year from 9:00 am to 10:00 am. Students dive deep into the word of God and learn more about their faith. Our Wednesday night programming runs from September through April, every Wednesday.
THRIVE
RECC's Youth Group for 6th - 8th graders meets at the church from 5:30pm - 7:00pm Wednesday nights during the school year. They play games, praise God in worship, gather for a large group message from our Youth Ministry Director or other volunteers, then have a time of discussion. A free meal is provided for the students at 6:30 pm, prepared and served by volunteers.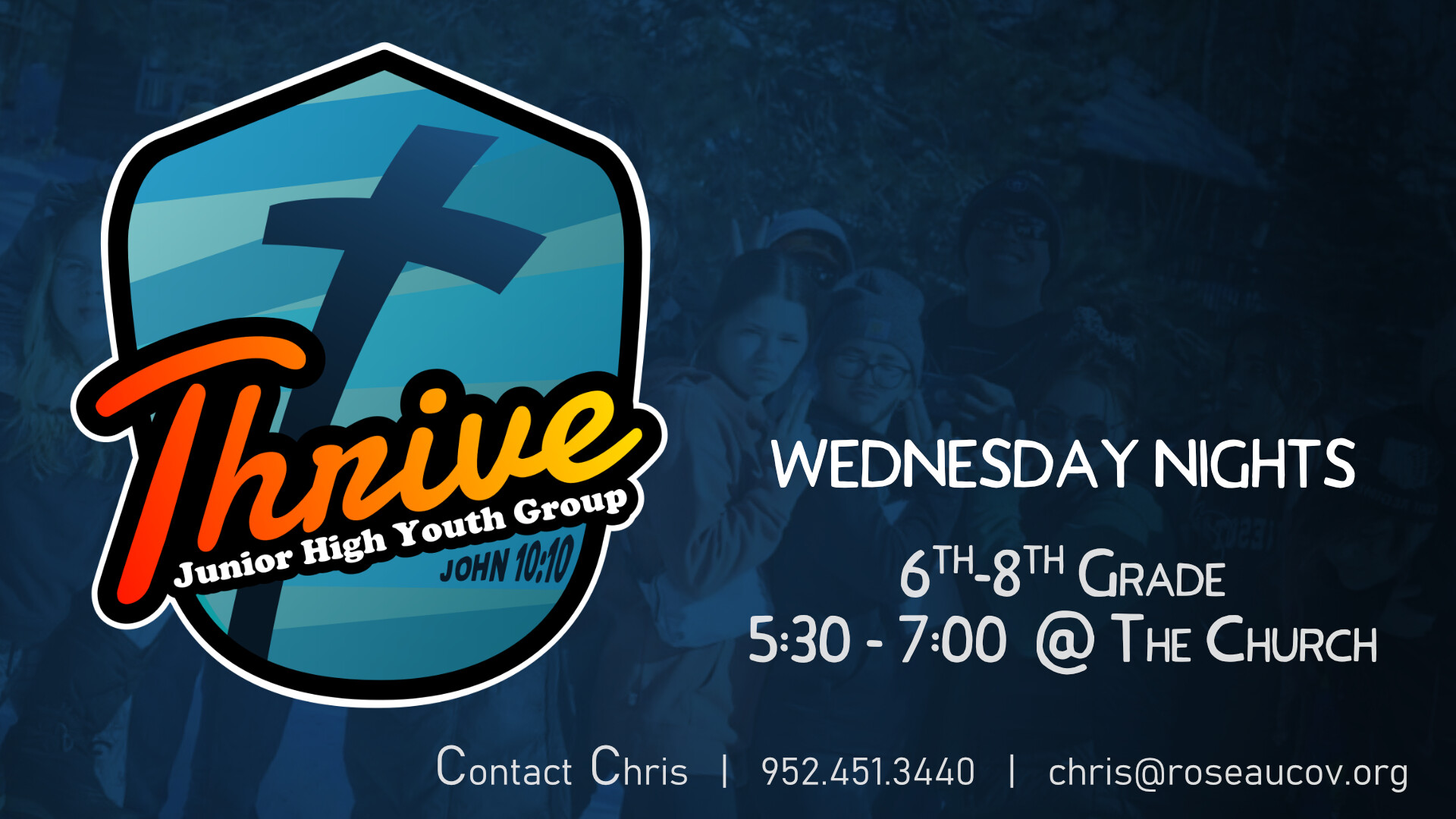 IMPACT
RECC's Youth Group for 9th - 12th grade meets at Chris Shortreed's house from 7:00pm - 8:30 pm Wednesday nights during the school year in a small group atmosphere for snacks, fellowship, and learning more about God's word.
Confirmation
Confirmation if for students who want to gain a greater understanding of God, their faith, Biblical theology, and how they can take the next steps in their faith journeys. Confirmation is taught by our Senior Pastor, Nate Johnson. More information on upcoming confirmation classes to come.


Retreats and Bluewater Covenant Bible Camp
Students have the opportunity to participate in several retreats throughout the year. Bluewater Covenant Bible Camp hosts fall and winter retreats that the RECC Youth Group attends alongside other youth groups from other churches. The retreats are an awesome way for students to grow closer to God, dive deep into God's word, learn more about their faith and how they can share it with others, and spend time in fellowship with students from other churches. Bluewater also runs several youth and family camps throughout the summer. RECC provides a bus from Roseau to Bluewater.
UNITE
UNITE is the Evangelical Covenant Church Northwest Conference's youth conference. The 2024 UNITE conference will be held at Bowling Green State University in Ohio. The conference includes nights of worship, messages from nationally known speakers, break-out groups for deeper discussion, fun activities like games and excursions, and delicious food. RECC students going to Unite will participate in several fundraising events throughout the year organized by Chris Shortreed leading up to the conference to help offset the cost of going. More information to come.