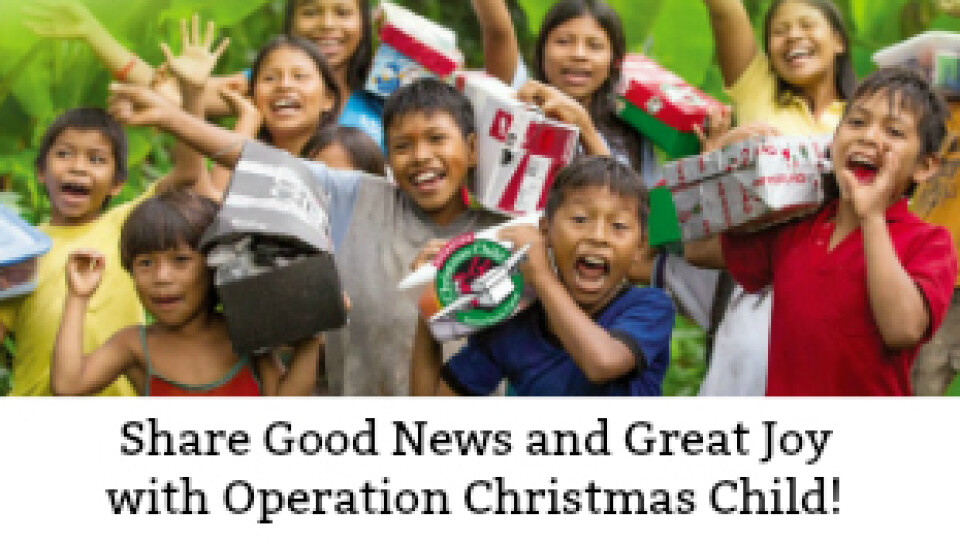 Sunday, November 18, 2018, 10:15 AM - 11:30 AM
Please join us for an Operation Christmas Child Lunch after the morning Worship Service on Sunday, November 18. Soup, chili, salad breadsticks, beverages and dessert will be served. A free-will donation will be collected to help defray OCC shipping costs.
For the past 25 years, Operation Christmas Child, a ministry of Samaritan's Purse, has been collecting shoeboxes filled with gifts and delivering them to children in need around the world. Each box is an opportunity for a boy or girl to experience the love of God in a tangible way and hear the Gospel.
Many boys and girls who receive shoeboxes also enroll in a follow-up discipleship program, The Greatest Journey, were they learn to follow Christ and share Him with others. It all starts with a simple gift.
Before you start packing your shoebox, review this checklist:
Find a standard-size shoebox (no boot boxes).
Fill it with a "wow" toy and other gifts.
Pray for the child who will receive your shoebox. Include a note and a photo.
Include a $5 shipping fee.

Bring your shoebox to RECC by November 18!
Wondering What to Pack? Here are some suggestions:
"Wow" item

: soccer ball with pump, doll, stuffed animal, musical instrument, shoes

Toys

: toy cars, jump ropes, yo-yos, toys that light up and make noise (with extra batteries)

Accessories

: socks, hats, sunglasses, hair clips, jewelry and watches, flashlights (with extra batteries)

School Supplies

: pens, pencils and sharpeners, crayons and markers, notebooks and paper, coloring books and picture books, solar calculators

Non-Liquid Hygiene Items

: toothbrushes, bar soap, washcloths, combs

A Personal Note

: a message to the child, a picture of yourself, your family, or your group (If you include your name and address, the child may be able to write back).
DO NOT INCLUDE: candy, toothpaste, gum, used or damaged items, war-related items, seeds, food, liquids, lotions, medications, vitamins, breakable items, glass containers, aerosol cans
Thank you for partnering with us to support this vital ministry! Shoeboxes are due November 18!