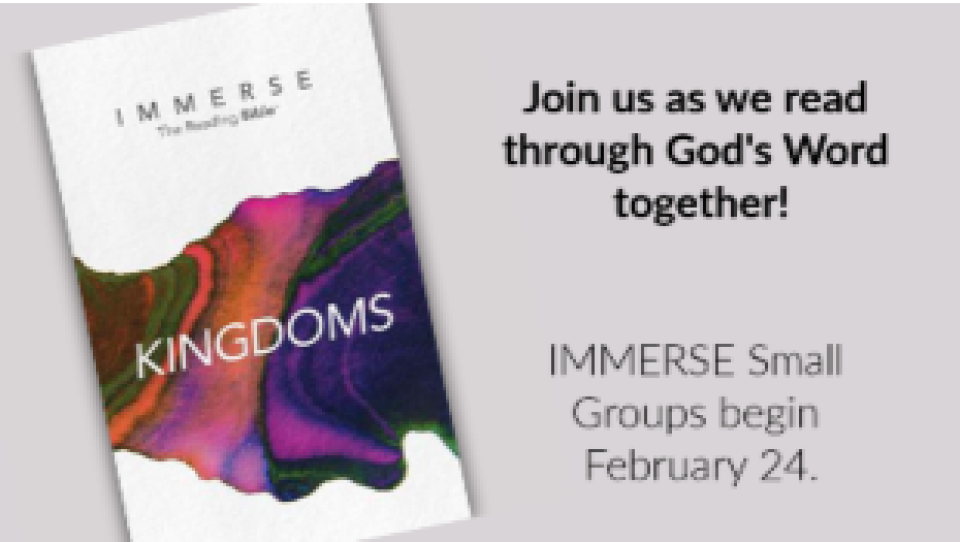 Every Sunday from 02/24/2019 to 04/14/2019
What is IMMERSE?
IMMERSE is a partnership that our denomination (the Evangelical Covenant Church), Tyndale and the Institute for Bible Reading developed to engage people in reading the Bible. Over the course of 8 weeks we will read through "Kingdoms" (the books of Joshua through 2 Kings).
The Bible we will be using is the New Living Translation (NLT) but the format has been modified so that it reads more like a story. The chapter numbers and verse numbers have all been removed as well as any commentary. Don't worry – no content has been changed at all.
The goal of this reformatting is to read Scripture more like it was originally intended to be read in several regards. First, each book the Old Testament was meant to be read in one sitting. In other words, to read the whole thing – not just a little section here and a little section there. Think of it more like a story than a reference book. And second, Scripture was read (or heard) in community.
IMMERSE is not just a reading plan. In addition to reading the same sections of Scripture over the course of 8 weeks, we'll also meet together in small groups once a week to discuss what we've read. These groups are designed to be more like discussion groups than a "fill in the blank" kind of study. Think of it more like a conversation or a book club than a Bible study. We're asking everyone in the Church to get involved in a small group for these 8 weeks!
What are we asking people to commit to?
We are asking all attenders to read the assigned sections each day – it's roughly 5 - 8 pages a day, 5 days a week (weekends are for "catch up"). A reading plan is given out with each Bible. Then come prepared to discuss these questions at each meeting:
What stood out to you this week?
Was there anything confusing or troubling?
Did anything make you think differently about God?
How might this change the way we live?
So there is no "prep" time needed other than completing the reading each week.
I get nervous talking when there are lots of people around!
We're going to keep the group sizes small so it will feel more like a group of friends getting together.
But I'm not a Bible expert! What if I don't understand what I read?
That's one of the great things about this format – there are sections we all have a hard time understanding and we're not expecting everyone to understand everything. Don't worry about the parts you don't understand. The goal is to read big, not to catch every detail. You can always go back and study a specific passage in greater detail later. For now, take in the big picture; let that be your focus for the next eight weeks.
What if I'm single or my spouse and I aren't available on the same day?
This isn't the ark – you don't have to sign up in pairs! J
What is the time commitment?
You should plan each small group meeting to last approximately 90 minutes. The groups will meet once a week for 8 weeks (the week of February 24ththrough the week of April 14th). Since the whole church will be doing this together, it will be important to "keep on schedule." We'll be planning our Sunday morning sermon series around the weekly readings as well.
Costs
We're asking each person to purchase one of these specially formatted Old Testaments. They are available for $9 each. If cost is a concern for anyone, the Church will purchase books for those who cannot afford one. The only stipulation is they must attend one of the groups. There are many other resources provided free of charge for all who participate.
Sound great! How do I sign up for a group and buy a book?
We'll begin signups for groups in the coming weeks. You can pay $9 for your book at that time or at a later date. Checks should be made out to RECC.
Additional Resources
Audio files and e-books are also available by visiting http://immerse.covchurch.org/kingdoms. Family guides are also available
For more info
If you have further questions, please contact pastor steve at or 218.463.3420 (church).