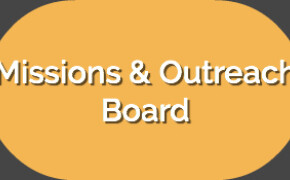 An update from the Missions & Outreach Board.
Missions & Outreach Board Update
The Missions and Outreach Board's job is to help our Church be "on mission" in Missions. We meet monthly and spend a significant time in prayer for the missionaries and missionary projects that we support. Just recently, many from our church participated in the Feed My Starving Children "Mobile Pack" event in Grand Forks. Leading up to that our board held a fundraiser to pay for the meals that we packaged. Thank you everyone who took part in feeding Jesus.
The Stroots are planning a mission trip to Haiti toward the end of this year. Plans for a trip this spring had to be postponed as more "ground work" needed be completed before they could begin their work. The trip will include helping their non-profit with many projects, including providing clean drinking water to their school. If you are interested in being a part of this experience, please contact Pastor Kecia.
Jason Stromstad is serving the Lord at a small Covenant Church in Scammon Bay, Alaska. His parsonage is uninhabitable and, through much work and fundraising, there are plans to build a new parsonage for him this summer in conjunction with Hope Covenant Church in Grand Forks. We would love to be a part of this project as Jason is one of ours (he grew up in our church). During the weeks of mid-June through July (6 weeks) the Alaska Conference is asking for persons/teams to help whenever they can during these weeks. In particular, they are looking for more assistance during the weeks of July 17 (a cook in particular) and July 24. We need to let them know if we can help as soon as possible – if insufficient numbers of people sign up the project will need to be rescheduled. Please consider how you can help. Contact Darrin Smesdso with any interest.
The Roseau Food Shelf is very active in our community and we support them in many ways. We have a grocery cart in the lobby to collect food items which can be dropped off at any time. We also raised funds for the March Food Drive. Roger Helgeson spoke on behalf of the Food Shelf telling how much it is used locally.
Vacation Bible School is just around the corner and will have a barnyard theme. The Missions and Outreach Board has taken an active role with VBS promoting a "Mission Project" that the kids can raise money for and be a part of (catch the vision). This year we will be raising money to purchase barnyard animals that have the potential to make a big impact in families across the world. We will pray the animals that are purchased through the funds raised at VBS this year will reap eternal benefits.
Our Church supports two missionaries through the Evangelical Covenant Church of America. One is Randy Bevis and the other has been Aaron (Owen) Thompson. Many of you may remember him from Bluewater. He and his wife have been a part of a church plant in Sweden, but will be transitioning back to life and ministry in Minnesota this summer. The board will be choosing another missionary to support in the near future.
Pastor Kecia shared an opportunity with our Church this past Sunday called Covenant Kids Congo. Our denomination (the Evangelical Covenant Church) had partnered with World Vision to give us the opportunity to support children in need in the Congo. We have names and pictures of kids from the Congo that we can support monthly. These are kids that we can write to and get to know over the years as we support them and as they grow in age and Spirit. We are talking about changing a life forever, giving drink to the thirsty, food to the hungry, clothes to the naked, and education and love to someone who might not get either without you. Pray about considering to be a part of this ministry. Contact Pastor Kecia to sponsor a child or for more information.
If you have ideas for our Church to consider, please let me know.
~Darrin Smedsmo, Missions and Outreach Board chair