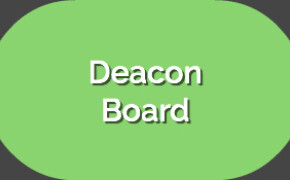 An introduction to and update on the Deacon Board.
What Does the Deacon Board Do?
The Deacon Board, consisting of 3 deacons and 3 deaconesses, is responsible for the spiritual welfare of the church. We assist the pastor in developing and maintaining a continuing program of evangelism, administering the sacraments and, in the absence of the pastor, together with the chair of the church, we are responsible for the services of the church. The Deacon Board is also authorized to receive and administer benevolence and care for the sick and the needy.
The Deacon Board continues to promote fellowship time after the church service with cookies, juice and coffee and would like to encourage all our members to be mindful of new attenders and greet them warmly. We also continue to facilitate and encourage our church family to participate in small group studies and to be in God's Word while getting connected with others. We also are hosting a public prayer meeting every Wednesday at 6:30pm in the library at church. Everyone is welcome, please join us.
The bereavement ministry reaches out to those during difficult times and those grieving over the loss of a loved one. The helping hands ministry also provides meals for those in need. Thanks to Cindy Tangen and Traci Fichter for organizing this ministry. Thanks also to all who have provided meals. Please let these ladies or one of us know about any needs.
Another role of the Deacon Board is to receive applications for church membership and to hear the testimonies of new members. This is a wonderful opportunity for us and we encourage our regular attenders to prayerfully consider church membership. Please see Pastor Steve if you have any questions about church membership.
The Deacons spend a considerable time in prayer at our monthly meetings and we welcome any prayer concerns you may have. If you would like to be prayed over, please let us know. Our regular meetings are the first Tuesday of every month. We also do visitations and prayer for our church family. If any of our members or regular attenders are sick or in the hospital, please let one of us know. The Deacon Board is currently brainstorming ideas for small group studies and leaders for next fall. If you would like to lead a small group, please let us know.
The Deacon Board appreciates the trust and support of our church family. Thank you to all who serve Him!
Current Deacon Board members:
Nathan Acker – Chair
Traci Fichter
Karen Markstrom
Mary Huglen
Bill Brandt
Roger Helgeson
Respectfully submitted,
Nathan Acker, Deacon Board Chair