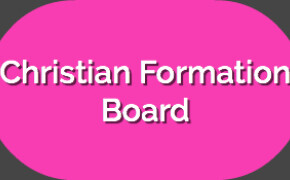 An update from the Christian Formation Board.
Christian Formation Board Update - November 2015
Early fall is a very busy time for the Christian Formation board. Before Labor Day we were already recruiting volunteers to serve in Sunday School, Children's Church and the Nursery. Our annual Teacher Orientation and Safe Children training is an important and necessary session to begin all of our programs. Any person who is volunteering with our church and may have contact with children is required to complete this training, along with a background check. This ensures that not only are our children safe while participating in our church's activities, but that our volunteers know the correct procedures if they should suspect a child is being harmed in any way.
Sunday school classes for ages Preschool through Adults began on September 20, followed by the Annual SS Picnic in the afternoon. Those attending the picnic had a great time of food, fellowship and games at the Malung Community Center. If you or your children are not yet involved in a Sunday School class, we would love to see your smiling face at 9:00am every Sunday morning. Either Kecia Stroot or Rachel Krahn (our Sunday School Superintendents) would love to show you to your classroom. We have volunteers in our Nursery during the Sunday School hour for ages 0 -3 years.
The CF board is putting Bibles in the hands of our kids every year by giving each 2nd grader an Adventure Bible and each Confirmation student a beautiful leather bound Bible.
Thanksgiving Sunday is coming up and we understand that many families are out of town. We will still have Sunday School on November 29, but it will be a fun movie on the big screen and popcorn in the sanctuary. The Sunday School Christmas program will be Sunday afternoon, December 13, followed by a potluck. This is for preschool through 6th graders. It is always special so be sure to invite the grandparents. Nichole Jensen and Mary Hoffer will be coordinating this event.
Rachel Krahn is currently filling in for Trish Hunter as the CF chairperson. Please see Rachel with any questions or concerns about CF matters.
Most people are first introduced to Jesus before the age of 18. The entire CF board would like to thank the many people who serve in our church as the hands and feet of Jesus.
The Christian Formation Board
Trish Hunter, Chair
Rachel Krahn, Vice-chair
Karen Granitz, Misty Lundbohm, Juli Smedsmo, Nick Kvidt