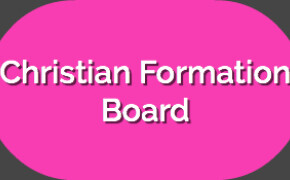 An introduction to and update on the Christian Formation Board.
What Does the Christian Formation Board Do?
The mission of the Christian Formation Board (CFB) is to provide opportunities for people across all age groups to have ongoing growth in their personal relationship with Christ, to be exposed to Christ's life-saving message and to encourage all people to respond to Christ's call and direction in their lives. In short – for Christ to be formed more fully in us.
Duties of the CFB include preparation and organization of Sunday School for pre-school through adult classes. The CFB also appoints the Sunday School Superintendent, Children's Church Coordinator and Nursery Coordinator. Other responsibilities include recruiting, scheduling and supporting our Sunday School teachers and subs. Prior to Sunday School in September, the CFB provides teacher orientation which includes teaching methods, policies for discipline, sexual abuse/harassment information, background checks and the distribution and orientation of Sunday School materials. Sunday School curriculum is reviewed and selected by the Sunday School Superintendent and approved by the CFB.
Following the first day of Sunday School in the fall, the CFB sponsors a picnic after the church service that involves games, trail runs and many other forms of entertainment – everyone is welcome to join in the fun! Throughout the year, the CFB also sponsors the annual Children's Christmas Program as well as Confirmation and Graduation Sundays.
Summer sets the stage for the community wide mission outreach referred to as Vacation Bible School (VBS)! Volunteers come by the family load … adults and junior helpers from Jr. and Sr. High School who are excited to reach out and assist the younger children. VBS includes immersion in Bible stories, learning Bible verses through music, and wraps up with recreation and mission time – it is so special to see all of the children bring in their piggy banks to support the designated mission for VBS week.
Our VBS teachers are now preparing for our children to be immersed in the lessons of "Moses in the Wilderness" (Oh, wait until you see Moses!!). Our decorating committee is busy preparing a true-to-life setting for everyone to enjoy as they wander through the wilderness with Moses and his sidekick :-). In full costume, you will think you are stepping back in time! God has truly blessed us with many willing and excited volunteers who are busy coordinating rotations, shuffling through recreational activities (Uh-Hem! By the way, this is one area we could really use some additional men and women and youth alike to join in the fun), preparing snacks and registration (Whew! A job in itself!).
During craft time, many little hands are busy making their very own picture frames to hold special memories from their week-long biblical experience. Thanks to our tireless and fearless photographer who captures the week in motion. What a lifetime of good memories!
If you are interested in being part of VBS, we'd love to have you! Please contact Trish Hunter at 218-242-9919 or at We will also have registration forms available in the church lobby.
Current members of the Christian Formation Board:
Trish Hunter – Chair
Rachel Krahn – Vice-Chair
Juli Smedsmo – Secretary and Worship Team Representative
Misty Lundbohm – Pastoral Relations Committee Representative
Karen Granitz – Search Committee Representative
Nick Kvidt – Bluewater Bible Camp Standing Member
If you have any questions or suggestions, which are always welcome, please contact either Trish or Rachel.
Thanks for the opportunity to share the exciting activities and purpose of the Christian Formation Board with you!
In His name,
Trish Hunter
Christian Formation Board Chair