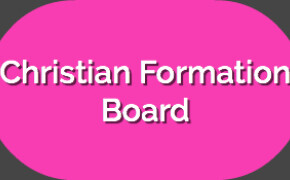 An update from the Christian Formation Board.
Christian Formation Board Update
The Christian Formation board may remind you of Sunday School, but we certainly do not take a break during the summers. In fact, summer is one of our busiest times as we are preparing for Vacation Bible School and the start of Sunday school. Barnyard Round Up was the theme of our Vacation Bible School which occurred just last week on July 25th –28th. Many people have been working toward this goal since early March. Maybe you noticed the church was transformed into a peaceful farm. This year we participated in the Roseau County Fair parade to advertise for VBS. Our brave youth director Bryan Dickson looked like a seasoned farmer as he drove the tractor adorned with VBS signs. Kids and adults walked behind to hand out informational postcards to the crowd. Maybe you saw us! We appreciate Kofstad Signs for donating the VBS banner that was along the highway.

Juli Smedsmo was our planner/director for VBS and we are thankful for her dedication. We had up to 72 kids (age 4 through 6th grade) attending each evening along with over 30 volunteers. They participated in crafts, games, music, listening to stories and memorizing Psalm 23 (centered around our theme, "Jesus gathers us together and He is our Good Shepherd"). The kids raised a whopping $745.20 for the missions' project of buying goats for Todd and Andrea Ellingson to distribute to the families at the City of Joy project in Rwanda, Africa. At $40 for each goat we were blessed to purchase a total of 18 goats! The week was topped off by the kids reaching their goal of having Pastor Kecia kiss a live goat! Parents were invited to attend the Thursday evening program the kids presented and our congregation was treated with a highlight video during the Sunday worship service. Thank you so much to all our volunteers who helped with VBS and those that helped with clean up. You are such a blessing from the Lord to our kids.

The Sunday school classes will see some changes in September. We are excited to introduce the "Orange" curriculum in our Preschool through 9th-grade classes. This will focus on our relationship with Jesus and encourage discussion between Sunday school kids and parents. Opening exercises will include everyone through 9th-grade and all classes will be on the same lesson each week. In addition to Sunday school teachers, assistants, and substitutes, we will be looking for volunteers for Children's Church and Nursery during the worship service. We would like to have a designated Nursery teacher and assistant during the Sunday school hour; treating the Nursery like another Sunday School class. Our younger classrooms will have two adults (or teens) in accordance with our church's Safe Children policy. Teacher Orientation and Safe Children Training (along with background checks) will again be taking place in early September for any volunteers who are in contact with our precious kids. Please be thinking of where you can be serving the Lord in our church.

Sincerely,

The Christian Formation Board: Rachel Krahn (Chairperson), Juli Smedsmo, Sarah Schmiedeknect, April Ingold, and Sherry Nelson.