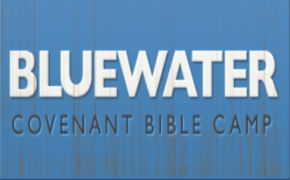 Learn about the ministry of Bluewater Covenant Bible Camp.
What is Bluewater Covenant Bible Camp All About?
The mission of Bluewater Covenant Bible Camp is to provide both a spiritually and physically enthusiastic environment that brings adults, youth and children into loving relationship with God and others through Jesus Christ. Bluewater is located 17 miles north of Grand Rapids, MN and is well known for its lake, yet the camp has close to 21 acres of land as well. Bluewater is owned by 12 Covenant churches in northern Minnesota. We're one of them!
Bluewater has youth camps for 3rd -12th graders as well as men's and women's retreats and family camps. Activities at camp include: swimming, volleyball, water skiing, big games, night games, climbing wall, kayaking, fishing, tubing, blob, knee boarding, wake boarding, hiking, basketball, sailing, canoeing, paddle boats, pontoon boats, snorkeling, crafts, carpet ball, ga ga ball … you get the idea – lots to do! And there is always an amazing speaker at each of the camps. This year's theme: "All in!" based on 1 Corinthians 15:58.
Everyone is welcome! No church affiliation is needed to go to camp. The youth camps do fill up fast, so it's a good idea to get your registrations in quickly! Scholarships are available.
Our Area Camp Coordinator is Traci Fichter who can be reached at 218-242-2880 or traci@4techniques.com.
Come for a week! Take home a lifetime of memories!
Pastor Kecia Stroot