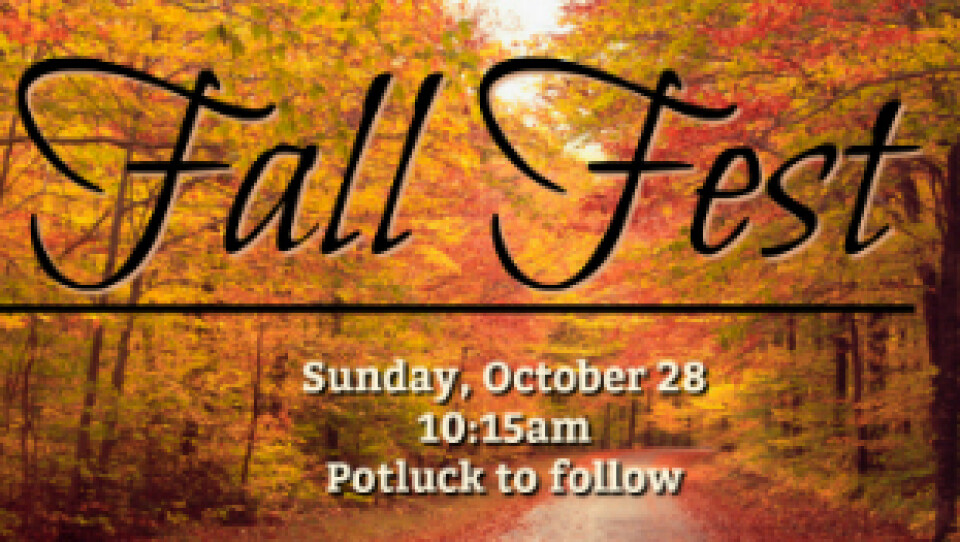 Sunday, October 28, 2018, 10:15 AM - 11:30 AM
Our Fall Fest Worship Service was an incredible morning of worship and thanks for all God has given to us! If you would like to give to our Fall Fest offering, you may do so by cash, check (write"Fall Fest" in the memo) or online (click HERE to be directed to our secure giving site and type "Fall Fest" in the Special Instructions box.
This year's offering will support these ministries:

Our Regional Project: The Northwest Conference
The Missions and Outreach Board is pleased to support the pastoral care ministry of the Northwest Conference. The Northwest Conference is committed to supporting and developing pastors. Studies show that anywhere from 50% to 80% of pastors leave the ministry within 5 years of completing seminary. In order to encourage pastors, the Northwest Conference provides resources and connections to support them in ministry. For more info, click HERE.

Our International Project: Slavic Gospel Association
The Missions and Outreach Board is also pleased to support the ministry of Slavic Gospel Association. SGA was founded in 1934 by Pastor Peter Deyneka, a refugee from Belarus with a passion to reach his people with the Gospel of Jesus Christ. Under Stalin's Iron Curtain, Pastor Deyneka, along with a small group of Christian businessmen from Chicago, raised funds to smuggle millions of Bibles into the countries of the former Soviet Union. They also produced thousands of Christian radio programs that were broadcasted over Soviet airwaves.

In 1989, two years after Pastor Deyneka's passing, the Lord answered his lifelong prayer, and the Iron Curtain came crashing down. SGA leadership immediately seized the unprecedented new opportunities for reaching the people of the former Soviet Union for the glory of Christ. SGA has grown to become an international ministry with autonomous offices in Australia, New Zealand, Canada, and England.

The ministry of SGA is four-fold:
SGA shares the Gospel by connecting North American Christians — like you — with individual national church-planting missionaries, and helps to send them out to live, work, and proclaim the Gospel. They have a tremendous advantage because they already know the language, culture, local needs and opportunities. You can have an exciting part in this life-changing fulfillment of the Great Commission!
SGA equips the church by preparing faithful pastors, teachers, youth leaders, and children's workers for a lifetime in ministry. SGA sponsors evangelical seminaries in Ukraine, Russia, Belarus, and Kazakhstan.
SGA helps the forgotten of Russia, the former Soviet Union, the countries of Eastern Europe, and Central Asia by caring for the physical needs of the poor, distressed, and dispirited. Their ministries not only provide vital life essentials, they also help open the door for missionary pastors and other church workers to share the life-changing Gospel of Jesus Christ.
SGA funds special projects that help the local church reach their community for Christ, such as Orphans Reborn, Camping Ministry, the Crisis Evangelism Fund, Immanuel's Child, Compassion Ministry, Youth Ministry, and Reach Russia Now.
To learn more about SGA, click HERE.

Fall Fest will be a morning to worship God and celebrate His goodness as well as support local, regional and international ministry efforts. All funds raised from our Fall Fest offering will be given to the Northwest Conference and Slavic Gospel Association. An All-Church Potluck will follow the Worship Service. Please bring a dish or two to share with our special guest and each other.