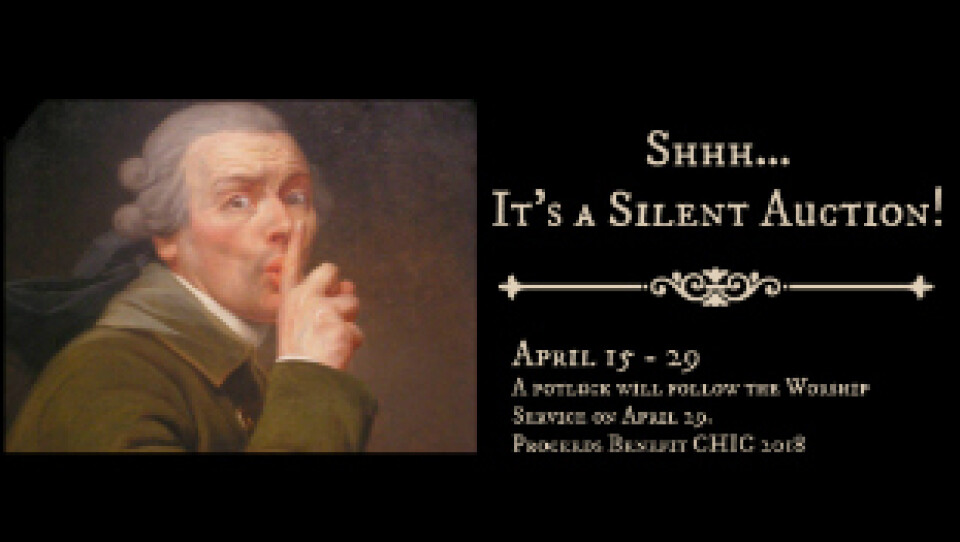 Sunday, April 15, 2018, 12:00 PM - Sunday, April 29, 2018, 12:00 PM
From April 15-29, FUEL youth group will host a Silent Auction to raise funds to attend the Covenant Church National Youth Conference, CHIC 2018, in Knoxville, TN. Donations of goods or services to be auctioned are greatly appreciated!

Items for the Silent Auction should be dropped off at the church by Saturday, April 14. Bidding will begin Sunday, April 15 and end Sunday, April 29. (A potluck will follow the morning worship service on April 29; please bring a dish to share!)

Not sure what to donate? Here are some great suggestions:
Cooking/Baking Classes
Music lessons
Golf lessons
Landscaping/gardening consultation
Homemade desserts, rolls, muffins, etc.
Dinner for four delivered to the winner's home
A gift card to a local business
A weekend at your cabin
A day of fishing on your boat
A gift certificate for babysitting
Scrapbooking for the winner
Party planning
A month of lawn care
Free oil changes
Signed sports memorabilia
Antiques
A round of golf
Gently used home decor, furniture, electronics
Concert tickets
Family photo shoot
VHS to DVD conversion
Jewelry, purses
Hand-made crafts
Crystal, china, vases, stemware
The possibilities are endless! Why not auction off your gently used items or your expertise to bless others?

For more information, contact Bryan Dickson. Donations may be brought to the Church Office.

CHIC 2018 Parents: All proceeds from the items your family donates will go directly into your student's CHIC 2018 account.